Painting Parties Made Simple!
Reserve our party area for you or your little budding artist for a fun-filled Painting Party.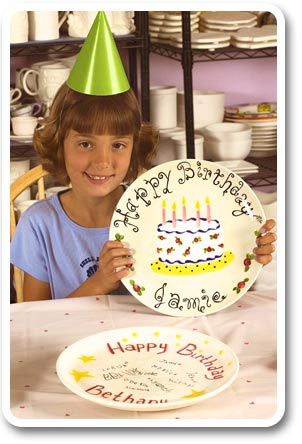 Includes:
Party Room
Paints
Glazing & Firing
Personal Party Host
You May bring:
Food
Cake
Drinks
Paper Goods
Gifts
Children's Birthday Parties:
Cost is $250 for up to 10 kids, each additional child is $20. Maximum of 14 children.
Each party is 90 minutes with 45 minutes of painting and 45 minutes of cake & gifts. All children's parties include a special keepsake birthday plate for the guest of honor.
For parties involving over 10 children we encourage parent drop off for everyone's comfort.
Paint-Your-Own-Pottery party:
Each child gets a piece of pottery that is $25 or less
Clay Names Party:
Each child rolls, cuts and decorates their own name from clay (maximum of 10 children)
Parties must be reserved two weeks in advance.
$75 deposit required at the time of booking.
Adult Parties:
Groups of 7 -14 people:
$15 per person plus the cost of pottery.
Groups of fewer than 7:
$100 room rental plus the cost of pottery.

Adult parties are up to 3 hours.

A 15% gratuity is added to the total party cost.
Private Parties:
Rent our entire studio for just $250! Cost of pottery and 15% gratuity are additional.
Pottery ranges from $5 – $70